Taran Wilkhu
Architectural and Lifestyle Photographer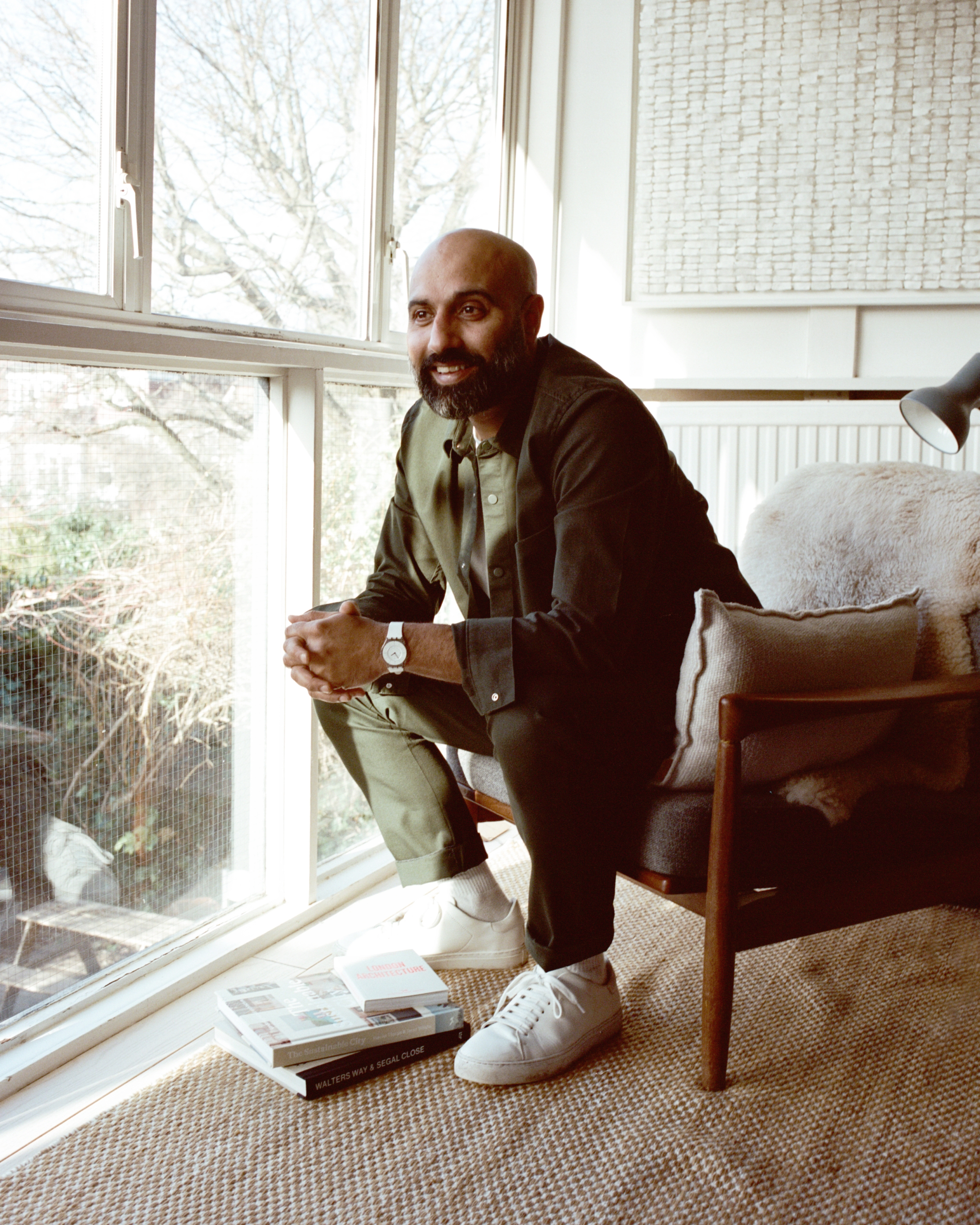 It's a sunny Friday afternoon in southeast London and we find ourselves at the home of architectural and lifestyle photographer Taran Wilkhu and his wife Celine.
What's set to be a two-hour interview soon turns into a long afternoon of conversation with Taran's inspiring stories of adventure and ambition keeping us all fascinated. His path to photography has been unconventional to say the least, having previously worked in the investment banking world, as an English teacher in Japan and travel and fashion events coordinator. But it's clear to see that Taran has now found a career that inspires him beyond anything else. Meet Taran Wilkhu.
Lestrange
Thanks for inviting us to your beautiful space here. It's clear your home stands out from the rest in the neighbourhood. What is the story behind the houses along Walters Way and Segal Close?
Taran
About 15 years ago at Open House, Celine and I were checking out some architecturally interesting houses. We wandered down Walters Way, which is just down the road. We walked in and immediately said, "Oh my god, I want to live in this house." As fate would have it, I later found a Segal House on sale with on The Modern House". These houses were self-built in the late 70s, inspired by an architect called Walter Segal. The people who lived in and built them were just regular people that had to learn how to build a home. Can you imagine? All you need to do is buy the materials! It's a flatpack, so kind of like a prefab. But you could decide what you wanted to include or not, that's what's great. All the houses here are all a little bit different. The configuration of the house from when we first bought it to now is completely different. In fact, we created the new studio space very recently. We also knocked down a wall in the kid's bedroom to create one bedroom with a hammock all the way through because the boys wanted to be together. So it's like a kind of a house that's always evolving with us. As our family grows, the house grows as well.
Lestrange
There is so much light here, it's hard to imagine what your favourite spot in the home would be. Do you have one?
Taran
Yes, the studio. We used a beautiful material by Clay Works. It sort of changes in the light and you get a real sense of peace in the space.
Lestrange
You must have seen many striking homes and buildings as an architectural and lifestyle photographer. What was your journey in becoming the photographer you are today?
Taran
I've done career pivots many times. At first, I wanted to be a lawyer, then I got to the final years and realised, that's not for me. I wanted to learn a new language and new culture instead and went to teach English in Japan. After a year there, I fell in love with the people and food. I found myself returning to London working in events for the fashion industry before finding myself working in finance. I was always angry wearing a suit and tie everyday. It's not my scene. I was exhausted and I didn't feel happy. And Celine was like, 'look I'll back you, you just do what you got to do'. I wanted to do photography. Then I started setting my own goals, which led me to start my first personal project.
Lestrange
Which is this book you have here, about Walters Way & Segal Close?
Taran
I started with the home I live in and all the other houses along Walters Way and Segal Close. It's such an architecturally interesting area but also an awesome way to meet my neighbours. One of them; Alice Graham was a journalist who lives on Walters Way and she suggested we do an article on the project. So I suggested a self-published book. We sold 200 copies. But then I decided to take it to Frankfurt World Book Fair. I showed this book to four or five different publishers and before one of the publishers agreed to 10,000 copies. This all happened within three months of being in the industry!
Lestrange
Was there someone that played a pivotal role in your career?
TARAN
Matt Gibberd, co-founder at The Modern House. I met him at a Walter Segal inspired exhibition at the AA School of Architecture, and the rest was history as I started freelancing for them and shot hundreds of beautiful homes. He gave me a vital platform in a very saturated industry.
Lestrange
Is there a building that is at the top of your list to photograph?
Taran
There's a house in Palm Springs, California called Kaufmann Desert House, designed by architect Richard Neutra in 1946. The house was made infamous through Slim Aaron's iconic photograph, 'The Poolside Gossip' which was shot at this stunning property in 1970.